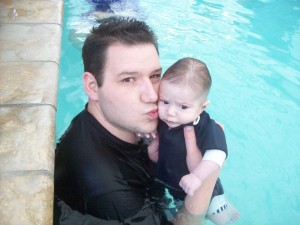 Saturday 1st October saw the official launch of Swim Baby Swim here in South Africa. Our first lessons were held in the fantastic facilities of the Melkbos Swim School, one of our partner pools. The water was lovely and warm at 34 degrees, ideal for baby swimming… any swimming really.
Fittingly, our first Little Swimmer was tiny Anthony Mitchell, a boisterous 8 weeks old, swimming for the very first time. His Dad, Lee, as expected was a little nervous at first, but quickly took to the water, enjoying his swimming lesson (and bonding time) with his son Anthony.
Anthony really took to the water, so much so that he also went underwater for the first time. Remember we all have a natural "gag reflex" that allows us to go underwater and is strongest with children under the age of one. Anthony, even though only 8 weeks old, gargled and goo'ed when he came up… Well done Little Swimmer.
Our first Toddler group was up next…The Tommy Tigers! What great fun we all had. Ranging from around 15-24months, these Little Swimmers had enough energy to last 10 lessons!! They squealed with delight as they mastered the 'Washing Machine' warm up and very confidently swam around the pool doing big 'Tiger Arms' to joy of their parents. They were all very loud and most certainly did their parents proud. We just can't wait to splish splash with them in the pool next week as there is certainly a lot more in store for these little Tigers!
Once the Tommy Tigers were all done carving up the waves, our 1-2-1 lessons began. 1-2-1 sessions are used to make the older kiddies more comfortable around the water, teaching them the core skills of swimming and moving into refining their swimming strokes . Brave little Morgan was great and laughed the whole way through her lesson. Morgan didn't have the best start to swimming, so her Daddy decided to enrol her at Swim Baby Swim to give her another go at the water. Hopefully she enjoyed it as much as we did, but judging by her excitement, I think she did.
Four year old Ryeleigh Lentz was so keen to get started and gave every skill a try, she even put her whole face in the water and kicked beautifully as if she'd been practising all morning. For the older Little Swimmers, especially the ones who may have had a less than ideal introduction to water, putting their face into the pool is a massive achievement. So well done to both Ryeleigh and Morgan.
Thank you all our new Little Swimmers, we know this will be the start of a magical swimming experience for all of you and your parents. What a great way to start your Saturday morning!